Korzo discuss their new album "Inspire"
Your new album is very different for anything else on Lion Music! How did you get in contact with them?



Dimi Rich - I just sent the material to Lars, because I owe some CD from Lion Music when I was a kid, like Iron Mask, Artension, Vitalii Kupriy, etc.
He came back with the offer that looks good for us and we made a deal.



What can you tell us about the process of recording your new album?



Myroslav Danko - well, it was kind of controversial experience. Like the instrumental part has been made really fast and easy. It was a Very joyful part of the process.
But when it comes to vocals - something went wrong. We tried out 3 vocalists, wasted almost a year until we found Jace. After that, all goes well as at the beginning.

Dimi Rich - We started the writing process in October 2017 only by me and Myroslav. When we come up with some ideas we asked our friend David, to record drums for "In the End". We know each other by playing in some other bands and personally I wanted to do a record with him. A week after David called me back and we talked by phone for an hour or something just discussing that song. He was really satisfied with everything and offered to make a real band out of this studio project. So, in December 2017 trio was formed, we started to do a lot of jams inside the studio. All that we needed is a good singer. One day I met Jacob when he asked me to produce some stuff for him. I invite him to the band rehearsal and we jammed for an hour after which he became a permanent member. In June 2018 we started tracking vocals. Album was finished in October 2018.

Jacob Moses - The process was tough, adventurous and pleasurable but, the joy of how beautiful the result of our effort will be- kept us going enthusiastically.

David Ulrich - The recording process took place in complete freedom of musical expression, I just played from my heart without any haste in search of the perfect rhythm, so the process went to the maximum pleasure. :)



Do you plan to take this music on the road?



Dimi Rich - Yes! Definitely! But it's not easy as it sounds. Now we're trying to reach promoters both for album and tour, shooting a video clip with famous Ukrainian videographer and also planning to set up a big promo campaign. A lot of things going on right now, so I hope we'll go on tour till the end of this year.

Jacob Moses - Offcourse, to every corner in the world not only in the streets. Our music is for everybody - we want to inspire people about certain things in life so, no place in the world will be untouched as far as God's Grace lingers; we will not stop moving!

David Ulrich - It is necessary to understand that we're both studio and concert musicians, therefore it is natural that our music was created with to be performed.
I don't get it, how is that, to create an album and then DO NOT play it ??? What's the point of this??? Indeed, it is like to buy a beautiful car and NOT drive on it ??? What's the point of this??? So yes, live performances for KORZO in priority!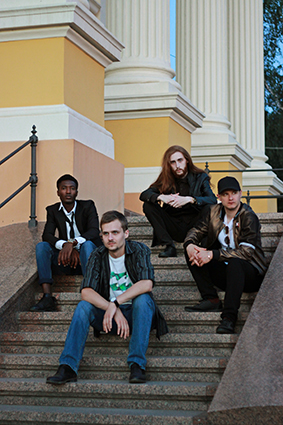 Which bands and which albums would you say are your main influences?



Myroslav Danko - Pink Floyd is ones who influenced me the most. not as much in songwriting, but in the way of meaning. I'm always trying to make songs meaningful and connected by this meaning. Can't really define an album - they're all amazing to me.

Jacob Moses - It wasn't long after I joined the band that I began to listen to a band called "The Beatles" and as well other bands. Their (The Beatles) kind of music and how they all started blew my mind - it was a great motivation to me - as it holds true; "never to despise the days of little beginnings".

Dimi Rich - too many bands influenced me, just a few of them that came to my mind at the moment:
Symphony X - The New Mythology Suite (a greatest piece of art ever made)
Waltari - So Fine!
Metallica - Load
Sonata Arctica - Reckoning Night
UDO - Timebomb

David Ulrich - My "musical world" was exclusively positively influenced by Metallica and most of their albums.




Are you not worried that there are too many bands fighting for the same audience within this genre?



Myroslav Danko - Of course, we not. Quite the contrary, we would be glad, if there be a lot of talented bands with high-quality music that brings right messages to people. No matter what genre it would be. What's really disturbing - persons who present themselves as an artist, but really don't have a clue what for are they doing this. Just bought some instrumentals from the stock, bought some lyrics, put it all together with tons of autotune over their vocals and then they'll go with the flow.
Like one famous Ukrainian writer, Ivan Chendei said: "Talented people do not scare the other one talented. They are generous, rich and will share their place under the blue sky. What's dreadful for talents - dull ones, that imagined themselves talented"

Jacob Moses - It is not a thing to worry about because every band has or should have its own uniqueness. Recognizing your own uniqueness will distinguish you. So, we are holding onto our own uniqueness(style) which will distinguish us.

David Ulrich - It doesn't bother me at all, we just have to do what we want to do and as best we can.




Did any of you guys release any albums with other bands prior to Korzo?



Myroslav Danko - Not really, but I'm in progress as the member of Majesty Of Revival. My first and our next album will release on 31 May.

Dimi Rich - me and Myroslav playing in a band called Majesty of Revival, we're playing Progressive Metal, a new album "Timeless" will be released in coming weeks through Wormholedeath Records/The Orchard (Sony Music). Also, I did a bunch of albums with different projects since 2010.
Andy Carey 2019