LARS ERIC MATTSSON talks about his new album "ASTRAL GROOVE - 25th Anniversary" (Lion Music 2020)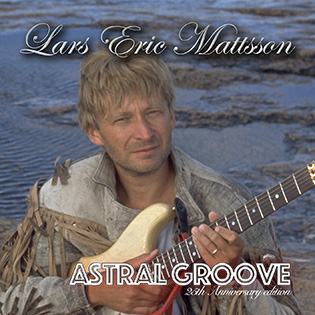 Why did you decide to update this album with new guitars and new mixes?



The truth is that there were some issues with some of these songs that has been disturbing me quite a bit over the years but it was not possible soundwize to just fix a few of the songs and not all of them. As I started this task I discovered that some of the recordings had been lost or were not useable. The album was originally recorded on ADAT tapes and some of the tapes were either damaged or lost.

How did it feel to go back and remix and rework these old 1994 recordings?



I have revisited older material a few times before and most of the time I do enjoy it. It brings back memories and I often feel like I am learning a lot both musically and about myself during this process. There were a few things I just had to change within the mixes mostly, the performances I was mostly okay with.



Do you agree that ASTRAL GROOVE is a bit different from your other albums and projects but still not too far away from your latest releases?



Well, in a way I have partly come come back to this more earthy blues based sound. ASTRAL GROOVE was very much for me a trip into the way hard rock sounded like in the early 70-ies when blues was a very big part of the hard rock sound and there were no clear borders between progressive rock and hard rock.



I feel like there is a very strong Hendrix vibe on some of the songs, do you agree?



This whole album is in a way a tribute to Jimi's influence on me and rock music in general. I know the songs does not really sound like his music but the influence is clearly there. Songs like "Until We Meet" are built around the way he used to write and play his ballads. But I always do things my way so everything I do somehow end up sounding like me, I don't plan it, it just happen.


Original 1995 Astral Groove promo photo



Please tell me a bit about the background of ASTRAL GROOVE, if was initially intended to become a real touring band, right?



Yes that is true. Well, I actually had a band at this time, a power trio and at this time I was just getting back into music after two years totally away for music but the guys went away to do other things in a not so very nice way and I was left alone. We actually had a small gig and they quit the same evening without notice. I felt very bad about it at the time but in the long run it was probably for the better. I worked for a long time on this album because I was experimenting a lot with things like percussion a la' 70-ies Santana and I tried a few different singers. I recorded 20 songs in total of which 16 ended up on the album. After the album was finished I took another three years totally off from music before coming back in 1997 and from then on I have been more or less on full speed until now even though every now and then I might be away from the guitar for a shorter period due to things happening in my life. In a way the years 1992-1998 were not the best in my life but then I feel like I was musically reborn with the 1998 album "Obsession" and haven't looked back one second.



When you recorded ASTRAL GROOVE in 1994 the process of recording was very different from now I suppose?



Yes, we recorded everything on ADAT tapes, three machines with 8 tracks each synched to each other, sometimes this was not working very well so technically it was very difficult at times. the VISION album "Till the End of Time" (1997) and my 1998 album "Obsession" were both also done the same way but I was for the first time using a sampler in the studio (for some percussive effects) and that was very fun.



And finally, what are your future plans?



I have a ton of unfinished songs. a few more albums that really should be remixed but I also plan to do some video clips where I would offer some ideas about practising on the guitar. I would also like to talk about my ideas of composing, soloing, chord structures and some other musical ideas. Maybe some day I will also share some music business experiences. Not sure where to begin though. Oh, and I have ideas for a book or three... and I hope I can get back to performing live with my own music.

Original 1995 Astral Groove promo photo
Musicians on ASTRAL GROOVE:

Lars Eric Mattsson - Guitars, bass, keyboards, percussion
Bjorn Lodin - Vocals
Thomas Tornefjell - Drums, percussion
Micke Ahlskog - Bass
Randolph Reymers - Backing vocals


Production, Mixing and Mastering by Lars Eric Mattsson.
All music and lyrics written by Lars Eric Mattsson.
Composed and Recorded 1994 with additional recordings 2014.
Remixed at the New Lionís Cage in 2019.