LARS ERIC MATTSSON talks about the new "ELECTRIC VOODOO - 30th Anniversary Deluxe Edition" release (Lion Music 2022)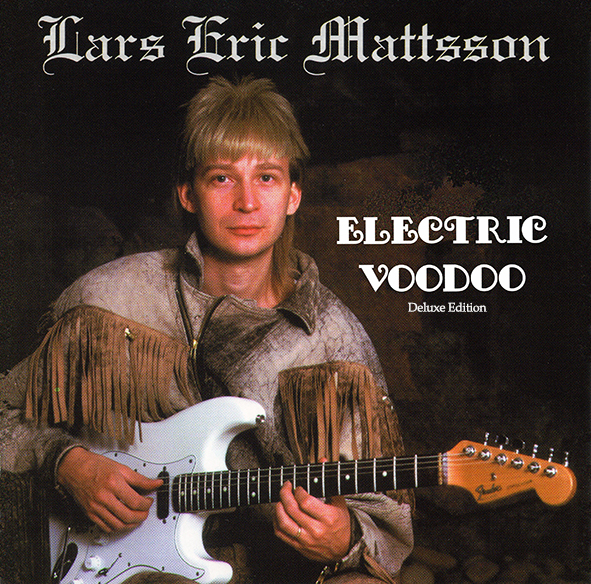 Why did you decide to make a new version of "Electric Voodoo" and how do you feel it compares to the 1991 version?

I have actually been thinking about it since maybe 8 years and I started working on the project a bit early last year but then I got busy with "The Outsider" so I had drums for about half of the tracks and bass on three songs when I started working seriously on the reissue a few months ago. I must say it was harder than I thought but I was feeling very inspired so things wen pretty fast once the ball was rolling. I am definitely very happy with the result. I don't think the old versions were ban but the mixes and some of the recordings were lacking in punch and some things were quite unbalanced.
On this new version the guitars and drums seem to take a much bigger space while the keyboards are way more in the background. Do you agree?

Yes, I think that is correct. This way the music feels more balanced to me, but it's alos a fact that when you get the drum and guitar sounds right you fill up quite a lot of the sonic landscape so there is less room for other things.
I think the music on Electric Voodoo is highly original and does not really compare to the other guitar hero releases of 1990-1991. Where did your influences come from?



I guess my influences as a composer did not really come from other guitarists but more from progressive rock and classical music, mixed with some blues and fusion. I never wanted to copy anyone and I have always been searching for you own voice.
What guitars, amps and effects were you using back then and on this new version?

In 1990 I was recording with a Kitty Hawk tube amp and I used different guitars like the 27 fret Waasburn (picture below) as well as a Kramer Pacer and a Fender Strat, as seen on the album cover. This new version was recorded 95% with the custom True Temperameny Hot Rails equppied Strat (picture at the bottom of the page) but also some clean parts with either my Jeff Beck Custom Shop or my 1961 Strat. I did this album with a Marshall JCM800 and no effects except for delay and rever added at the mix and a little bit of phaser added on a few parts. Oh, I almost forgot the Cry Baby wah wah...
Lars in 1990
There are two really cool live bonus tracks included, do you have more live recordings available and is there any video as well? 



Thank you! These are from a 2002 showcase I did. I do have a few more tracks and also from another gig but no good qualitly video from these.
The Cry of Love (Guitar only Version) which is the final bonus track really make you hear your guitar performance very clear. Did you think of making such versions of all the tracks or what motivated you to include this one?

I was checking that eveything was okay my listening to just the guitar a few times once I had recorded the lead guitar of this song which was the one I spent most time with and then I thought maybe I add a little bit more clean rhythm guitar (because that was not present everywhere in the full version)
There is a download only deluxe version that also contains bother the 1990 recordings remastered as well as versions without the lead guitar, please tell me why you chose to include these?
People has asked for "playback versions" every now and then over the years so I thought why not? And I think the original versions might be interesting for some people as well.
What are your future plans?
I have a concert in one and a half week and I will release a small tribute to one of my childhood heroes, George Harrison next moth.


Lars July 2022