For those who dont know: Who is Nenna?



I am the big music lover, not just the musician, but also the fan. I have finished piano academy, so I am the professional pianist. I am the singer. The teacher in music school. The most of the musicians start with studio recordings and continue with the intensions to promote it live. With me it was opposite. In the last decade, I have played all over the world, as a pianist, as a singer frontman with some bands and as a part of some European tour projects – from fancy hotels and ocean cruises, to rock-jazz clubs. But I didn't think too much about to record some of my stuff. So, I made the decision to change it in 2019, and it's gonna be the year that will show you some different faces of Nenna. You've heared the first song "You make my day", released by Lion Music and that is the kind of start of Nenna-rock-journey, but on the other side I have prepared an acoustic album with jazz standards, that will see the light of the day in 2019. Jazz is also my big love and classical music.



You have released a brilliant melodic hard rock single and people keep wanting more! Very 80-ies like, do you you agree?



I did it with Srdjan and his AlogiA team. They established 80's traditional hard rock and heavy metal in Balkan. He produced it and composed it, so it definitely has that 80's touch. And actually that is why I loved it from the moment when I heared the demo idea. Nowadays popular music is very unemotional, robotic and sterile, cold and boring in the most of the times. Without real instruments, without real playing, even without the real singing. When speaking about popular music, I think that 80's were the great era. I would say that we brought the "fire" of 80's and packed into the modern package, with the real playing and real instruments, without the computer-playing-and-singing-instead-of-the-musicians and the result was the song "You make my day". The song is pretty simple, but that is what makes it being so sweet. And there will be more..



When will we see a full album?



The first plan was to finish the album during the summer, cause I am free with the school in that period. But I got the contract to play as a pianist in the northern Europe for Aida cruises during July and August and I decided to take it. However, there will be some new stuff as soon as I come back, maybe not the full album, but definitely you can expect some new Nenna rock stuff in autumn, under the flag of Lion Music.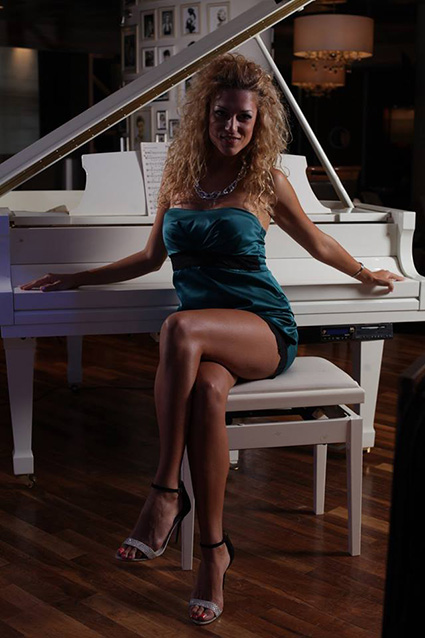 I belive you are a full time nightclub entertainer and that you have travelled the world on cruise ships as pianist? how was that and why did you stop?



I didn't stop. The only thing that I stoped is to play as a solo pianist. That can be so boring, being alone with the instrument infront of the audience for hours. It is much more joyful and interesting when somebody else is with me and I think it is the good combination duo with Srdjan. Not only that he plays and has some good energy, but he makes some good sound engeneering that brought the performance on a much bigger level and he pretty saved my voice with his sound set up. It can be stressful and it can harm your voice when you are always on the run – from school classes to the night clubs, from Alpes to the oceans and seas… every day, every night, every season, on and on and on… Sometimes I really wish to stop, but I still didn't. But, the plan is to try to make it up to the real-band level, with our own music.



What are your future plans and do you think you will be touring once you have an album out?



That would be great. We will try to make a real band, sometimes we play as a band in the studio, doing some rehearsals just for fun, but we still didn't bring it to the real stage. But, yes, I really wish if we could get some rock festivals after finishing the album. I have the plan to have my own music in the set list, but also some covers, rock and hard rock classics from the world of girl-rock scene. On the other side, I would like to make a jazz trio to present live my upcoming jazz album.



Are you happy with the response to your debut single?



We had a lot of fun while recording it. I truly enjoyed it. Recording the song, recording the video… It all will keep some nice memories. It all brought a lot of happiness to my life, even without any response. But we even got the response. And the response was bigger than I expected.